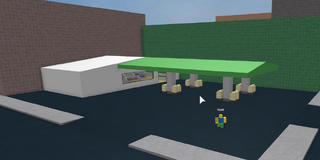 What it is
The Gas Station on the Spawn Side of the Bridge is a location in the game "Taxi Simulator: Brick Cars Edition" It is one of four Gas Stations. The first, this one. (On the spawn side of the bridge) The other ones, The Gas Station on the Island with the David83335 Tower, The Gas Station on New Life Island and The gas station on Split Island. This one has one NPC. (Two if you include the Easter Egg NPC that spawns randomly on the Green Building next to it)
Trivia
On the old version, there was a single block missing in this station, which was believed to be a glitch. In Brick Cars, that said missing brick used to be for a Golden Brick Car. But now, it is not there so it is believed that David83335 is too lazy to add it again.
Ad blocker interference detected!
Wikia is a free-to-use site that makes money from advertising. We have a modified experience for viewers using ad blockers

Wikia is not accessible if you've made further modifications. Remove the custom ad blocker rule(s) and the page will load as expected.