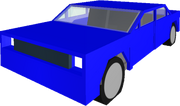 Information
Taxi of a Better Future
Shop Price
Unlockable
Ability
Health
Speed
The Taxi of a Better Future is the mystical Not Taxi seen in the Taxi Simulator Intro Video and is from a future saved by Taxi Drivers! This vehicle is blue instead of yellow and instead of what's usually in the boot, it has money bags and wads of cash.
Trivia
This is Not Taxi.
It also doesn't have a Taxi Sign.
Ad blocker interference detected!
Wikia is a free-to-use site that makes money from advertising. We have a modified experience for viewers using ad blockers

Wikia is not accessible if you've made further modifications. Remove the custom ad blocker rule(s) and the page will load as expected.