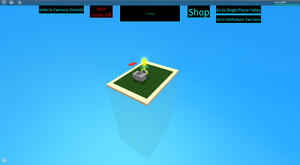 "One of three mysterious islands..."
What it is
Taco Island is one of three Mysterious Islands. It has 1 NPC and a Taco Cart. This NPC is called Mr. Newb A substitute for Mr. Noob so he doesn't have to stand there.
Trivia
Besides the Taco Cart, Taco Island is in no way related to Tacos.
Ad blocker interference detected!
Wikia is a free-to-use site that makes money from advertising. We have a modified experience for viewers using ad blockers

Wikia is not accessible if you've made further modifications. Remove the custom ad blocker rule(s) and the page will load as expected.