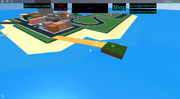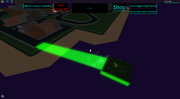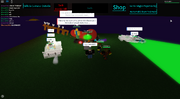 "The only real scary thing is the mob of people that come here every hour..."
Information
Spooky Island is an event location and chances are, by the time you check out this page, it'll be gone. It's sand was replaced with a transparent green material, had a transparent green ramp and was floating above the ocean near the Police Station. It was here during the 2016 Halloween Event, and is a location used to get the Ghostly Taxi. It has one NPC and a Taco Cart with a green transparent umbrella.
Trivia
You could not deliver an NPC here during the 2016 Halloween Event.
Mr. Newb's right. That mob really is scary.
In an early version when this was released, The island never had smoke particles.
Ad blocker interference detected!
Wikia is a free-to-use site that makes money from advertising. We have a modified experience for viewers using ad blockers

Wikia is not accessible if you've made further modifications. Remove the custom ad blocker rule(s) and the page will load as expected.