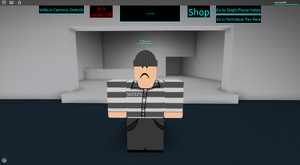 Summary
The Prisoner is a common NPC that can be found at the police station. It says things different than other Noobs, and seems as if he's being chased by the police. He gives the same amount of cash as a regular Noob.
Trivia
The Prisoner says different things to Player's than regular Noobs both late and on-time. These include (When you're on time) "Thanks! Here's your stol- I mean legitimately obtained (Money)", "Thanks for helping me esca- I mean thanks for the ride! (Money)" and When late, "They're gonna catch me now... (Money)" and "I'm just going to use a prison van to get the rest of the way... they're much faster. (Money)"
Ad blocker interference detected!
Wikia is a free-to-use site that makes money from advertising. We have a modified experience for viewers using ad blockers

Wikia is not accessible if you've made further modifications. Remove the custom ad blocker rule(s) and the page will load as expected.