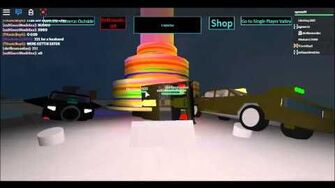 What it is
The new years cake drop tower is a location in the game Taxi Simulator: Brick Cars Edition. It was added during an promotional event for the game entitled "Make a Cake: Back for Seconds!" It was there for a few days before it was out. The day it WAS opened, the Cake slowly slid down and down till it got to the bottom. At that time, Make a Cake: Back for Seconds! was opened.
Trivia
Although many player's were expecting a Secret Taxi, there was none. Many player's were disappointed.
When the Cake got to the bottom, Cake particles came out of the side of the cake and a little doorway opened from the front.
Apparently, David83335 is going to turn the new years cake drop tower into a City. It is possible that this might be Robotics Island.
Ad blocker interference detected!
Wikia is a free-to-use site that makes money from advertising. We have a modified experience for viewers using ad blockers

Wikia is not accessible if you've made further modifications. Remove the custom ad blocker rule(s) and the page will load as expected.