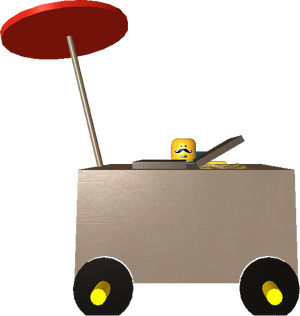 "Welcome to Taco Island... Do you want to buy a Taco or something?"
Mr. Newb
Mr. Newb is a new NPC that currently stands around and says stuff to the player. He stands behind a Taco Cart with a Red Umbrella on Taco Island. There are 3 islands in total.
Trivia
Mr. Newb is being payed to stand being a Taco Cart all day by Mr. Noob.
You can activate his talk by clicking him.
Before the Squidward Taxi was added, he used to say "Welcome to Taco Island... Do you want to buy a taco or something? Mr. Noob is only paying me to stand behind this all day, so I don't really care if you buy one. I don't know if this means there's going to be a boat or something in the next update..."
During the 2016 Halloween Event, he stood behind a taco cart with a glowing see-through umbrella. (More information on the 2016 Halloween Event page)
Ad blocker interference detected!
Wikia is a free-to-use site that makes money from advertising. We have a modified experience for viewers using ad blockers

Wikia is not accessible if you've made further modifications. Remove the custom ad blocker rule(s) and the page will load as expected.