"I believe I can fly"
Information
Guest 9015's Jet Car
Shop Price
Unlockable
Ability
Flight (E+Mouse)
Health
100
Speed
247 sps (27.6 mph)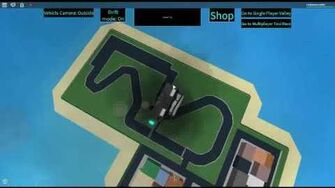 Guest 9015's Jet Car is a taxi that has the ability to fly, and is given to you by having the
Golden Wall Driver Taxi
and 2 other secret badges from Taxi Simulator, along with another secret car that cannot be even be told of here, to protect others from getting banned.
Trivia
Top speed in air mode is only 200 sps.
The model is based off of a car from one of David83335's other games called Brick Cars which is obtained via a code
Behind the nose is a brick that changes colour.
On the back, it says Friend Mobile. It is called this due to it's guest theme and because the original code to obtain it's base model in Brick Cars was "friendmobile". Either that, or because basically everyone that sees you flying it sends you a friend request.
The symbol on the front is a guest.
Losing one wing will cause your taxi to smoke and will disable flying.
Before a update that actually made the special taxis needed to be unlocked in order, this could be obtained before getting wall driver taxi.
The noise for the flying noise + movement is https://www.roblox.com/library/183339994/Fixed-jet-loop-For-dynamic-flight-simulators
Ad blocker interference detected!
Wikia is a free-to-use site that makes money from advertising. We have a modified experience for viewers using ad blockers

Wikia is not accessible if you've made further modifications. Remove the custom ad blocker rule(s) and the page will load as expected.