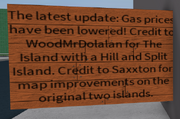 "NO!!! MY LIFE IS RUINED!!!!"
Information
The 2017 April Fools Event started on Friday, 31 March 2017 PST time and ended on Saturday, the 1st of April 2017 PST time. During the event, gas prices weren't too high, everybody could drive to their jobs and work always got done, not so permanently unfinished apartments were completed, people had lots of money, Guest 9015 was finally defeated and the trees no longer envied taxis. But there was one problem... This world doesn't need taxis!! Oh No!!!
Changes
Ad blocker interference detected!
Wikia is a free-to-use site that makes money from advertising. We have a modified experience for viewers using ad blockers

Wikia is not accessible if you've made further modifications. Remove the custom ad blocker rule(s) and the page will load as expected.